As I am reading "Content Rules" by Ann Handley & C.C. Chapman, I found the following content worth sharing. (Paraphrased)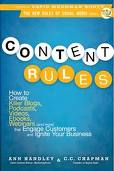 "Specifically, creating content as a cornerstone of your marketing can:
Attract Customers
Educate your buyers
Overcome resistance
Establish credibility
Tell your story
Build Buzz
Build community
Inspire impulse buying"
Not bad for writing a few post on LinkedIn, Facebook, Twitter, Google+, or your blog.