According to Palestinian businessman and entrepreneur Sam Bahour, the people of Palestine have great business ideas, plenty of education, and capital to finance

projects. What they need to reduce investment risk is mentoring and partnering with business people from foreign markets. This is exactly what is occurring with Bethlehem Free Trade Artisans.
Bethlehem Free Trade Artisans or BFTA, is a combination non-profit, for-profit organization working to spread the fair-trade message in Palestine and link Palestinian producers to global fair-trade markets. Open since 2009, BFTA has helped local producers reach markets in Europe and the Middle East. Their founder and CEO, Suzan Sahori, has a history of successful projects in both the public and

private sectors. Under her guidance, BFTA has grown to represent hundreds of Palestinian artist and craft people.
Now with the help of American businessman and consultant, J.R. Atkins of Something Different Companies, BFTA is getting ready to expand into the US Market. "Since J.R. has lived and worked in the West Bank, he was able to understand our business and cultural context and thus quickly identify opportunities to grow our business," says Sahori. "He made suggestions for our website, marketing, and distribution methods that will be instrumental as we grow our business in America."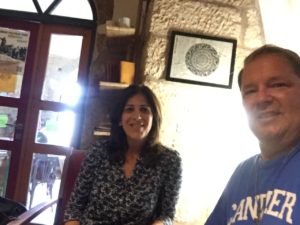 "Suzan and her BFTA team have done a great job of building solid relationships with local producers who make unique items that will sell well in the US. The key to success is to identify a wholesale marketplace in the US that will allow us to reach thousands of retailers in a short amount of time. It looks like we have done that in the Dallas Total Home & Gift Market" said Atkins.  J.R. Atkins operates a consulting practice with offices in the US and Bethlehem. He helps companies in the areas of social media, websites, email marketing, and Marketing consulting.
If you have a success story of a West Bank organization you would like to share or would like assistance growing your business, please contact us.